Our Story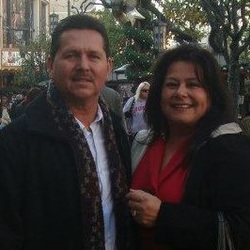 Eddy Sr. is a graduate of Alhambra High School Class of 1975. His wife Virginia is a graduate of Richard Gahr High School in Cerritos class of 1977. After marrying in October 1978, they moved to North Long Beach. Sr. was working for Pacific Custom Interiors in Bellflower Mon- Fri and also working on weekends at Manny's Auto trim in Artesia. In 1979 after the birth of their son Eddy Jr., Eddy and Virginia decided to open Eddy & Son Upholstery.

Jan 1980 was the opening of the first shop, a 900 sq ft building on Artesia Blvd. After much success in Bellflower, they opened a few more locations; Eddy & Son Downey, Eddy & Son Rosemead, Eddy & Son Alhambra. Their reputation has lead to Eddy being flown to the San Francisco bay area, Sacramento as well as San Diego on several occasions to perform specialty work on numerous vehicles. After moving their residence to West Covina in 1982, the commute became too much between home and other locations. All efforts became spent on the original shop at their current location on Woodruff Ave in Bellflower.

The current shop has 3600 sq ft under roof and 4,000 sq ft of parking. With the success of the shop, they've expanded their services. They now include design and construction of custom interiors, tops for auto and boats. Eddy & Son resins and fiber glasses their boat interiors and builds custom bimini tops. All work is done in house! We have been family owned and operated for over 33 years. After being raised in the family business, their children Eddy Jr. and Deanna often stop by to help with major events and shows.

Eddy is a honor 20 year member of the Bellflower Noon Lions and a honor member of the Bellflower Chamber of Commerce. Come meet Eddy & Virginia at the Bellflower Car show held every first Saturday of September (Eddy & Son booth). Please come visit us!
---